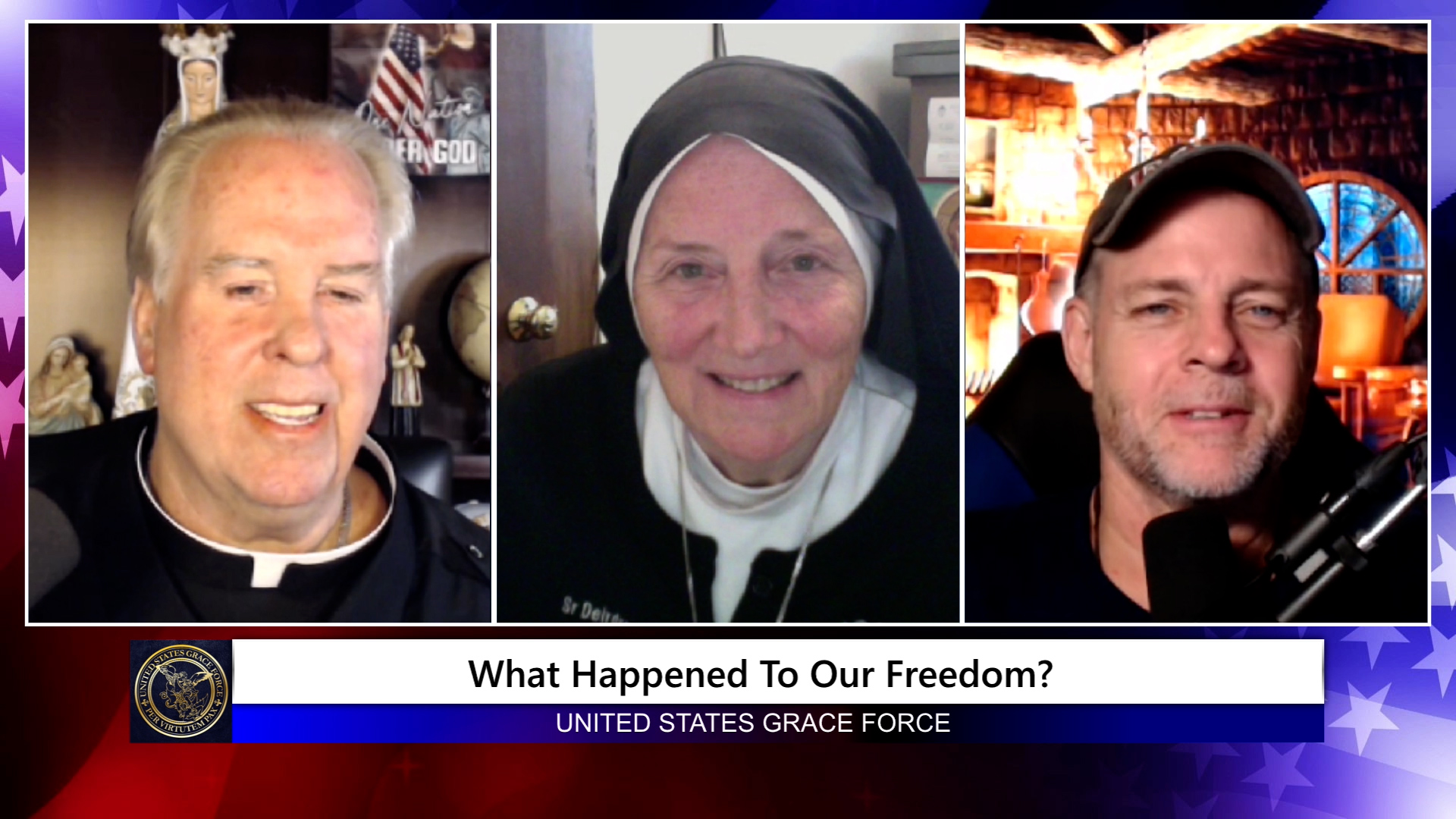 Many of us came to meet Sr. Dede with her amazing speech at the Republican National Convention in August of 2020. See Sister's speech HERE. Sister is a great fan and enlisted member of the United States Grace Force.
Sr. Dede shares the concerns of so many of us that our freedoms are being threatened at an alarming rate. More recently, we are now on the verge of "forced vaccination." Many are losing jobs or kept from entering college unless they submit to the demand to take the vaccination.
Tune in to get Sister's take on all of this. Sr. Dede is hoping you all will join her as Sister is a part of a very important Video Press Conference that is slated for August 4, at 12:00 noon ET, USA. Live Q & A with the US and international experts follow the formal presentation. The Press Conference will be live-streamed on several platforms. RSVP to Info@TruthforHealth.org for a link to participate in the event.
This is a very powerful episode of the Grace Force!! DON'T MISS THIS!! PLEASE SHARE!!
----------------------------------------
Help support this podcast by becoming a Grace Force Patron here: https://www.patreon.com/user?u=25398590
---------------------------------------
Join the Battle Ready Coalition and become part of one of the fastest growing online Catholic Membership sites. Click the link to join the waitlist: https://www.battlereadystrong.com/coalition Battle Ready Emergency Preparedness Course: Be prepared to Care for and Protect your Family in times of Natural Disasters, Emergencies, Civil Unrest, Economic Collapse, and More - All in Line with Catholic Church Teaching. Click here to learn more and sign up: https://bit.ly/3da2kBQ
---------------------------------------
Learn more about this new movement at the link below: https://www.restoretheculture.com/?r_done=1
---------------------------------------
Get your hands on the newest US Grace Force GRACIE T-shirts!
- Say Goodnight Gracie! https://teespring.com/say-goodnight-gracie?pid=525&cid=101934
- Got Gracie? https://teespring.com/got-gracie?pid=525&cid=101933